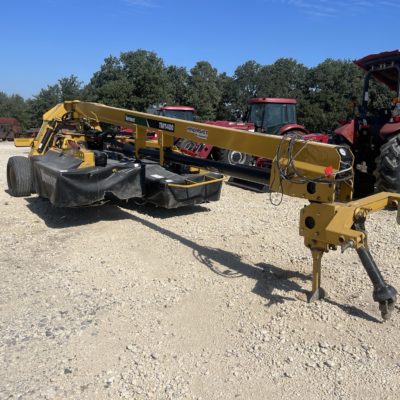 $20,999
Price: $20,999.00

Make: Vermeer
Year: 2017
Condition: Pre-Owned
Type: Pre-Owned, Hay, Agriculture, Vermeer Trail Mowers
Location:
935 E. SOUTH LOOP
STEPHENVILLE, TX 76401
Description
2017 Vermeer TM1400 Trailed Mower for sale at Hendershot Equipment in Stephenville & Decatur, TX
Cut down your mowing time with the heavy-duty, center pivot 2017 Vermeer TM1400 trailed mower. It mows a remarkable 18'/5.5 m with staggered and overlapped cutter bars so you achieve complete cutting action right down the middle. When the field is done, the TM1400 folds to a transport width of only 8'6"/2.5 m. Each of the 14 discs is self-contained with its own set of gears, bearings and lubricants - and the gears stay in the grease, even when mowing at extreme angles.
Features and Benefits
Save a significant amount of fuel and labor by cutting wider swaths with each pass.
Maneuver around objects easily with the center-pivot design that allows 180° turns.
Float over fields and contoured terrain with a nitrogen-charged accumulator floatation system that adjusts for varying field and crop conditions and a suspension system that compliments the independent cutter bars, allowing each to operate at different levels.
Enjoy simplified maintenance using the exclusive Quick Clip® Blade Retention System and flip-up curtains that give you easy access to the cutter bars.
Get more protection from unseen obstacles between the wide skid shoes and suspension system that protect the cutter bars, and the friction clutch, which protects the drive system.
See your Vermeer dealer for comprehensive service and genuine Vermeer replacement parts.
Dimensions and Weights - Approximate
Transport Height: 78 in (198.1 cm)
Transport Width: 8.5 ft (2.6 m)
Transport Length: 24.5 ft (7.5 m)
Working Height: 78 in (198.1 cm)
Working Width: 24.5 ft (7.5 m)
Working Length: 20.5 ft (6.2 m)
Total Weight: 6300 lbs (2857.6 kg)
Tires: 31 x 13.5-15
Tractor Requirements
Hydraulic requirements: 2 Auxillary Remotes
Flow Rate: 6 gpm (22.7 L/min)
Hydraulic Pressure: 1850 psi (127.6 bar)
Cutterbar
Cutting Width: 18 ft (5.5 m)
Number of Discs: 14
Disc Diameter: 19.7 in (50 cm)
Disc Speed: 3000 rpm
Number of Knives: 28
Cutterbar Angle: 0 to 10 degrees each side
Standard Features
Warranty: One year limited warranty and three year limited cutterbar warranty
More from Hendershot Equipment
Locations in Decatur and Stephenville near Bowie, Alvord, Sunset, Boyd, Chico, Rhome, Springtown, Justin, Jacksboro, Azle, Montague, Denton, Jacksboro, Weatherford, Burleson, Cresson, Crowley, Fort Worth, Lake Worth, Mineral Wells, Granbury, Lipan, Glen Rose, Hico, Hamilton, Comanche, Dublin, Deleon, Early, Brownwood, Gorman, Bluff Dale, Morgan Mill, and Tolar, TX.