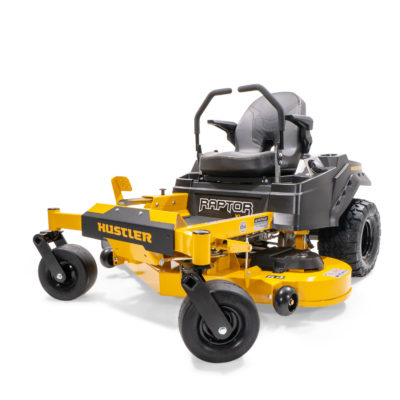 Make: Hustler
Condition: New
Type: Zero Turn Mower
Description
Hustler Raptor XL 42" for sale at Hendershot Equipment in Decatur & Stephenville, TX
The Raptor XL 42" features premium upgrades to the Raptor X. The XL provides some added comfort with a more premium seat and flex forks for a smoother ride. Also, there is an additional horsepower option with a 23hp Kawasaki FR Engine. More comfort and more power backed by an industry leading 3yr / 300hr warranty.
Hustler Raptor XL 42" Specs
Features
FlexForks®: Standard on the XL, these flexing front forks cushion the ride for a more comfortable mowing experience.
Premium Seat: Compared to Raptor X seat, the XL seat features a higher back and added padding with...read more
Premium Engine: The V-Twin Kawasaki® engine is the highest rated residential engine available.
Engine
Engine Manufacturer: Kawasaki FR651
Engine Horsepower: 21.5
Displacement: 726cc
Cooling: Air Cooled
Engine Warranty: 3 Year Warranty
Drive System
Type: Dual Hydrostatic
Transmission: Hydro-Gear ZT2200
Fuel Capacity: 3 gal.
Ground Speed (FWD): Up to 7 mph
Parking Brake: Patented Automatic
Deck
Cutting Width: 42"
Cutting Height: 1.5" to 4.5"
Deck Depth: 4.5"
Deck Lift: Foot Operated
Number of Blades: 2
Blade Length: 20.50"
Spindles: Aluminum with 1" shaft and double lip sealed ball bearings
Deck Engagement: Ogura GT1.5
Deck Material: Fabricated 11 gauge steel
Spindle Mounts: Reinforced 7 gauge steel
Impact Trim Area: 1/4" x 1" steel bar
Construction
Frame: 1.50" X 3" steel tubing
Front Axel: Fabricated with sealed ball bearings
Front Caster Wheel: Sealed ball bearings
Front Caster Fork: FlexFork®
General
Seat: Premium bolstered high-back seat with armrests and built-in lumbar support
Cup Holder: Yes
Dimensions
Front Tire (inches): 11 X 5
Drive Tire (inches): 18 X 8.5-8 BigBite™
Weight (lbs): 567
Height (inches): 42.6
Length (inches): 69.9"
Width w/ chute up (inches): 45.5"
Tire-to-tire Width (inches): 43
Productivity (acres per hour): 2.38
Shop more mowers at Hendershot Equipment
More from Hendershot Equipment
Locations in Decatur and Stephenville near Bowie, Alvord, Sunset, Boyd, Chico, Rhome, Springtown, Justin, Jacksboro, Azle, Montague, Denton, Jacksboro, Weatherford, Burleson, Cresson, Crowley, Fort Worth, Lake Worth, Mineral Wells, Granbury, Lipan, Glen Rose, Hico, Hamilton, Comanche, Dublin, Deleon, Early, Brownwood, Gorman, Bluff Dale, Morgan Mill, and Tolar, TX.