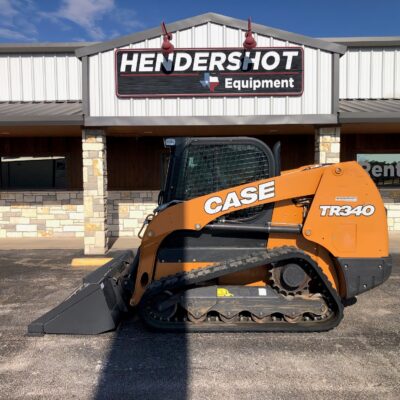 $56,500
Price: $56,500.00

Make: CASE Construction
Model: TR340 CAB
Year: 2019
Stock #: 028555
Serial #: JAFTR340CKM460327
Hours/Acres/Bales: 1,435
Condition: Pre-Owned
Type: Pre-Owned, Construction
Location:
935 E. SOUTH LOOP
STEPHENVILLE, TX 76401
Description
Pre-Owned 2019 CASE CE TR340 Compact Track Loader for sale at Hendershot Equipment in Stephenville & Decatur, TX
2019 CASE CE TR340 Compact Track Loader
Serial #  JAFTR340CKM460327
Unit # 028555
1435 Hours
Cab w/ Heat & AC
Air Seat
Performance Package
Hydraulic Quick Couplers
2 Speed EH Controls
Self-levelling
Ride Control
Front electric
Brand New Bucket w/ bolt-on cutting edge
Standard Flow
The Pre-Owned 2019 CASE CE TR340 Compact Track Loader for sale has a Net Engine of 84 hp (63 kW), and Operating Weight of 10,000 lbs (4563 kg), and a Radial Loader.
FEATURES
Power Where You Need it
Our new compact track loaders deliver exceptional bucket breakout force (up to 8,585 lb.) and hinge-pin height. All three models deliver superior horsepower, giving you the muscle to get the job done faster. Plus, they'll run all day long, thanks to improved fuel efficiency and new 20- to 25.5-gallon fuel tanks. One demonstration will prove it's time to trade up.
Traction When and Where it's Needed
Our dozer-style undercarriage is engineered to hold fast on steep slopes and take command of muddy or sandy terrain.
• Rigid track frame with fewer moving parts.
• More durable and easier to maintain than suspension track systems.
• New roller and idler technology reduces maintenance costs and increases undercarriage life.
• Narrow chassis width makes it easy to load and unload on trailers.
Comfort and Control
• A cab that delivers more room, visibility, comfort and control.
• With 25 percent larger cabs, they also feature dozens of upgrades, such as optional heated, air-suspension seats, air conditioning, a removable front door and side windows.
• Ultra-narrow, wire, side-screen design and larger glass windows give you more visibility.
•Case-exclusive side lighting, you'll get more done — day or night.
Service, Made Easy with Ease of Maintenance
Ask your technicians. Case has a reputation for easy-to-maintain and service equipment. The new Case CTLs are no exception, with features such as remote-mounted filters, ground-line access for daily maintenance checks and grouped service checkpoints. Need help? Our customer support team is on call with a Customer Assistance Hotline that operates from 8 a.m. to 11 p.m. seven days a week (except Sundays, December through March).
Attachment Options for all of Your Needs
• Hydraulic coupler option makes changing buckets and attachments easy, without ever getting out of the cab
• Optional high-flow auxiliary hydraulics
• Provides power needed for maximum productivity with high-flow attachments
• Optional proportional auxiliary switch on handle delivers precise control of attachments
• Optional electric auxiliary hydraulic control provides easy fingertip control of attachments
• Bucket options— short- and long-lip, regular- and heavy duty dirt buckets, utility, light material
SPECIFICATIONS
• Net Engine: 84 hp (63 kW)
• Operating Weight: 10,000 lbs (4563 kg)
• Loader Geometry: Radial
More from CASE
Locations in Decatur and Stephenville near Bowie, Alvord, Sunset, Boyd, Chico, Rhome, Springtown, Justin, Jacksboro, Azle, Montague, Denton, Jacksboro, Weatherford, Burleson, Cresson, Crowley, Fort Worth, Lake Worth, Mineral Wells, Granbury, Lipan, Glen Rose, Hico, Hamilton, Comanche, Dublin, Deleon, Early, Brownwood, Gorman, Bluff Dale, Morgan Mill, and Tolar, TX.