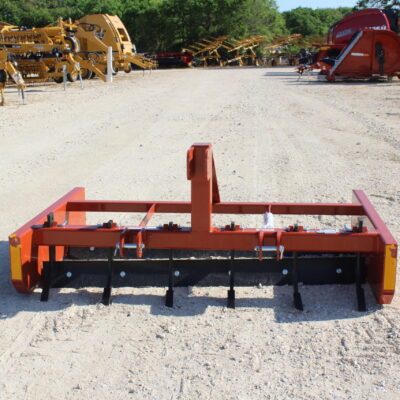 Description
Rhino GS72 GRADING SCRAPERS #022133 at Hendershot Equipment
The Rhino GS72 GRADING SCRAPERS #022133 cuts material from high spots and deposits it in the low spots, leveling the surface. Available in widths of 60", 72", and 84", this scraper will fit your needs with a minimum number of passes over the surface.
Designed for economical use, the grading scraper only requires 30-50 HP, depending on model. Additionally, heat treated shanks with replaceable hardened tips that can rip down 2-3/8" are standard on every Rhino Grading Scraper!
The offset angled blades use 1/2" x 6" cutting edges that are reversible and replaceable for long life, and the 13-3/4" tall side panels allow for large volume movement of loose material. Full length replaceable wear skids are standard for long life in tough conditions!
WARRANTY
Industry-leading toughness. Industry-leading warranty.
Rhino products are built to take on whatever you can throw at them. But if something should break, you'll be glad to know our warranties are just as strong. See your local Rhino dealer for complete details.
See more info from Rhino Ag Here
More from Hendershot Equipment:
Locations in Decatur and Stephenville near Bowie, Alvord, Sunset, Boyd, Chico, Rhome, Springtown, Justin, Jacksboro. Azle, Montague. Also, Denton, Jacksboro, Weatherford, Burleson, Cresson, Crowley, Fort Worth. Lake Worth, Mineral Wells, Granbury, Lipan. Also near Glen Rose, Hico, Hamilton, Comanche. Dublin, Deleon, Early, Brownwood, Gorman, Bluff Dale, Morgan Mill, and Tolar, TX.