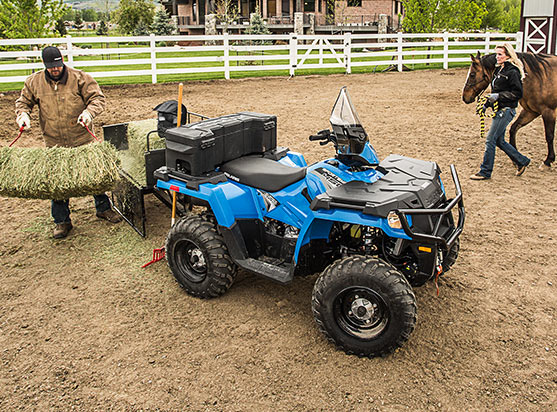 There is a reason why Polaris ATV is top in Off Road vehicles A-list. Their quick ascension in the ATV market can be credited to their superior performance. Needless to say, that is exactly what these world renowned all terrain vehicles offer. They have excelled in building market leading ATVs and we carry them right here in Stephenville TX.
When looking for an All Terrain Vehicle, you want to work with a team with confidence and experience that will help you get an ATV that is right for your needs. You deserve an all results
and hassle free shopping experience that will help make your adventures more memorable and life even better.
That is why you should choose us. Our team of professionals believe in developing a long lasting relationship with every customer that comes to purchase their next Polaris ATV.
We are fully dedicated to providing unparalleled customer service from the minute a you walk
into our showroom and our commitment does not end after making a sale. We follow up on every purchase to ensure every customer is fully satisfied.
We have a solid reputation in Stephenville thanks to our impeccable service. Also, our team of professionals consist of true ATV enthusiasts who are not only detail oriented but also love making customer's dreams come true. With passion, we will provide you with an ATV that will get you out there and give you an adventure that suits your needs best and most importantly your lifestyle. Being fully licensed to operate in Stephenville, Texas, you do not have to worry about being on the wrong side of the city council when driving your Polaris ATV.
Our showroom is also full of all models of Polaris ATVs which range from these:
· Sportman ATVs
· ACE ATVs
· Scrambler ATVs
· Outlaw ATVS
This wide collection makes us the leading 
Polaris Dealer in Texas
. We are sure that you will find a model within your budget and one with the features to make you look forward to your next journey-wherever you will be heading.
Although we have a wide collection of Polaris ATV, our inventory is just one part of the kind of business we are. We understand how important a relationship and trust in a dealer is to customers. We believe this is the reason why people from all over Texas have been coming to us – because customer satisfaction is our number one priority.
Whether you are looking for something fun to ride on the weekends or to help around the ranch we have something for you. Stop in to see our large collection and talk to our friendly and well qualified team of professionals the next time you need an ATV. We will ensure that you get exactly what you want.
Come by or CONTACT US for your next ATV purchase! You'll be so glad you did.
Hendershot Equipment
935 E. South Loop
P.O. Box 653
Stephenville, TX  76401
(254) 207-0414